Howdy fellow anglers, and welcome to my review of the best fly fishing rod and reel combos.
Over the years, I've gotten my hands on all sorts of fly fishing outfits, spending countless hours on the water with them.
I did a bit of research to find what's new and hot, and got my hands on what I was missing from the list. From a total of about 21, I got it down to my absolute top 10.
That took me about a month to go through — and a whole lot of fishing!
Each product was judged based on its performance, durability, value for money, and feedback from the angling community.
I can tell you straight away, for me, none of them top the TFO NXT Black Label. A kit that not only stands out for its impeccable quality but also bridges the gap between a novice and a seasoned angler. Its versatility and longevity are unmatched.
If you're tight on a budget, worry not, for this list encompasses a range of options that won't leave your wallet feeling light. I've made sure to find something for everyone.
Let's dive in.
What is a Fly Fishing Combo?
If you're stepping into the world of fly fishing or looking to upgrade your fly fishing gear, you've likely come across the term "fly fishing combo." But what exactly is it, and why does it matter?
Think of a fly fishing combo as an all-in-one solution for your fly fishing gear.
It's a pre-packaged set that includes a fly rod and reel, designed to work in harmony to make your fly fishing experience as smooth as possible.
Fly fishing combos are a game-changer for those diving into the world of angling!
I've seen many fly fishing beginners struggle with matching a rod to a reel. And that's because it's not just about size or weight, but rather ensuring they harmoniously work together. 
With a combo, manufacturers have already done this balancing act for you — all you gotta do is cast away.
Often, combos also come with a fly line and sometimes even backing and leaders. This means you're getting a package ready for action, saving both time and potential beginner mistakes.
For seasoned anglers like me, it's evident why fly fishing combos have gained popularity. They remove the guesswork and provide a well-rounded, effective setup right out of the box.
Understanding fly fishing combos is crucial for any angler, so I'm happy to share what I've learned.
How to Choose the Best Fly Fishing Combo?
Finding the right combo isn't just about looking good on the river; there are a number of factors that can impact your choice.
I've tried to break this down according to what I believe to be essential when first picking up a fly fishing combo, starting with something vital.
Match the Combo to Your Style
When choosing a fly fishing combo, it's crucial to align your fly rod combo with your unique angling style. Here are some specific recommendations:
If you prefer calm lakes and enjoy patient, precise fly casting, opt for a combo with a medium action rod.
For those who seek excitement in fast-flowing rivers and need versatility, a fast action rod with a more responsive rod tip might be the way to go.
Consider the Waters and Targeted Species
Way way back, I remember walking into a shop and being asked a simple, yet crucial question: where do you want to fish?
The type of water you plan to fish and the species you aim to target play a pivotal role in your combo selection. Here are tailored recommendations:
If you're fishing in tranquil lakes for bass, consider a 5wt or 6wt fly rod combo with a length of 9 ft.
Angling in rushing rivers for trout? A 4wt or 5wt fly rod combo in the 8.6 to 9 ft range may be your best bet.
For saltwater adventures targeting larger species like salmon, a 7wt to 9wt fly rod combo with a length of 9 ft or longer offers the power you need.
Factor in Size, Portability, and Convenience
Size matters in the world of fly fishing combos. Think about how you'll transport your gear to your chosen fishing spot. If you're heading into tight streams or venturing into remote locations, portability becomes of the essence.
With that in mind:
Opt for a compact and lightweight combo if you often hike to your fishing locations.
Consider a travel combo with a convenient case for added protection.
Choose a combo that aligns with your angling style and preferences. And if you're not sure how to, well, you've landed in the right place.
10 Best Fly Fishing Rods and Reel Combos
I'm gonna run you now through my top list when it comes to fly fishing combos.
Do note that a lot of these combos come in different sizing options, and the specifications listed always refer to the version I've gotten my hands on.
---
Best Overall
Rod Weight: 5wt
Rod Size: 9 ft
Material: Graphite
You know how they say there's a fine line between beginner and expert? The TFO NXT Black Label Fly Rod Kit blurs that line.
And, trust me, as someone with 21 years of fishing experience, I've seen my fair share of gear. But this one is quite the game-changer.
Starting with the fact that it's a medium fast action rod. In simple terms, that provides you with an excellent mix of power and flexibility, suiting various scenarios from tight spots to longer casts.
That makes this combo forgiving enough for those of you just dipping your toes into the world of angling, and the learning curve ever so smoother.
But here's where things get interesting. Once you master the basics, you won't really need to swap it out for a "more advanced" model.
The NXT has got your back, allowing even the seasoned angler to cast a line out a whopping 80 feet. And that, my friends, is no small feat.
The cherry on the cake is TFO's legendary warranty service. Having a hiccup with your rod? They'll have your back by the waterside before you can say "angler's paradise".
But, like a tricky fish, things always get a little wiggly. Although I didn't experience it myself, some users mentioned the reel cleat bolts are a bit short, causing the fly reel to unexpectedly drop. 
Minor issues like that aside, the TFO NXT Black Label is one of the best fly fishing combos that money can get you. If you're looking for THE fly fishing combo, start with this.
---
Best Splurge
Rod Weight: 7wt
Rod Size: 9 ft
Material: Graphite
Next up on the list is the Sage Foundation, a combo that truly stands out if you're willing to spend a little extra on your next buy.
With a 7wt rod measuring 9 ft, this thing is built for peak performance.
I took it out on a windy day and was pleasantly surprised at how accurately I could cast it, even from a distance. I went home with a beautiful (and massive) rainbow trout that evening 🙂
Thanks to its high-performance Graphite IIIe blank, the Sage Foundation offers exceptional casting power and control.
I also love its "Made in the USA" badge, a testament to its quality and craftsmanship. The package includes a balanced RIO fly line and a matching Spectrum C Reel.
However, it's important to note that this quality does come at a price — this combo tends to be on the higher end of the spectrum for entry-level/beginner fly fishing rods.
Its fast action, while great for long-distance casting, might lack a bit of finesse for delicate presentations at close range.
Another downside is the case, which I didn't get as pictured. I got a rod tube and reel sock, which was still fine, but just something worth noting.
In summary, the Sage Foundation offers exceptional quality and versatility, and while not ideal for everyone, it has proved its worth as a reliable workhorse.
If your wallet is willing to go the extra mile, I can guarantee you'll be investing in top-tier performance.
---
Best Starter Kit
Rod Weight: 5/6 wt
Rod Size: 9 ft
Material: IM8 Graphite
Say hello to the Wild Water Complete Starter Fly Fishing Kit, your one-stop solution for getting into the world of fly fishing.
I can honestly say: if I were to start all over again, I would most definitely go for something like this. This kit truly has it all.
The Wild Water combo comes with a durable and lightweight rod made from IM8 graphite. Easy to handle, even for those who are new to fly fishing.
It's got the fly reel, it's got the case, the fly line, the flies… and even the waterproof fly box. That comprehensiveness is what really sets this kit apart from others on the market. 
It's worth noting that while this kit is the best when it comes to fishing combos for beginners, the more experienced anglers might find the rod a bit too flexible. So if you're looking to catching big fish, you might want to consider a stiffer rod.
The rod has a slightly slower action than what I'm used to, but once I got the hang of it, it felt fantastic in my hands.
As someone who has tried and tested dozens of kits, I can vouch for its quality and convenience. Plus, the customer service is stellar!
The Wild Water Complete Starter Fly Fishing Kit is a fantastic choice, and, for the price range, there's nothing that will set you up for success as much as this combo.
---
Best For Beginners
Rod Weight: 5wt
Rod Size: 9 ft
Material: Graphite
Moving on to the Redington Crosswater Combo, another shining star in the realm of budget-friendly fly fishing combos.
A notable highlight of the Redington Crosswater Combo is its exceptional balance between sensitivity and power, making it suitable for a wide range of situations.
It's a great option for newcomers to the sport, but also for seasoned anglers who appreciate a reliable backup.
As someone who's spent over two decades angling, the Crosswater has always been a reliable companion wherever I took it.
The 5wt rod weight provides just the right amount of finesse for those delicate presentations, allowing me to target even the most elusive brook trout. Yet, when the need arises to wrestle a feisty bass, it steps up with surprising strength.
However, I must admit that in moments of precision casting, it might not match the accuracy of pricier options. I found this especially true when targeting smaller pockets in fast-flowing streams.
Nevertheless, it's forgiving enough to handle the common casting blunders that newcomers might make, without risking tangled fly lines or broken rods.
I like to see it as that trusty fishing buddy who's always up for an adventure. Its blend of versatility and user-friendliness makes it an excellent choice for new anglers still finding their ways and seeking to explore a bit of everything.
---
Best Versatility
Rod Weight: 5wt
Rod Size: 9 ft
Material: Graphite
Up next in our lineup is the Redington VICE Combo, a fly rod that's as versatile as it is affordable.
I took this one to the limit, and I can confidently say that it's a standout choice for those who demand flexibility without breaking the bank.
The VICE Combo boasts a fast action rod that's designed to tackle challenging conditions with ease.
Whether I was casting streamers, large nymph setups, or dry flies, this versatile fly rod never let me down. It's particularly adept at handling high winds, allowing for powerful and accurate casts even when the weather turns against you.
What sets this combo apart from its competitors is its easy-casting fast rod action and anodized machined aluminum reel seat.
Its lightweight design can make it feel like you're picking up feathers. But really, though, you've got a powerful beast in your hands.
When it comes to long-distance casting, the VICE Combo is in its element, effortlessly reaching distances of 100 feet or more, But it's worth noting that its weight and stiffness can make it less responsive for short to medium distances.
While it's not without limitations, the VICE Combo is a reliable companion that won't let you down.
---
Best Durability
Rod Weight: 5wt
Rod Size: 9 ft
Material: Graphite
Ah, the Echo Lift Kit. Another favorite among seasoned anglers – and for good reason.
I've seen many rods crumble under pressure, but not Echo fly rods.
Designed with the durability of top-tier graphite, this rod is built to withstand the test of time, and even the roughest of handling.
Say goodbye to that backup rod you carry everywhere…
Because whether you want to catch fish along rocky river banks or amid dense forests, the Echo Lift Kit is built to stay intact.
Stretching out to 9 ft, this rod gives you that extra bit of reach that can be crucial when you're trying to cast over streamside shrubs or reeds.
Now, let's address the elephant in the room. It weighs slightly heavier than some of its counterparts, which might seem like a drawback.
But think of it this way: it's like trading a sedan for an SUV. You're gaining robustness and performance, and that tiny bit of added weight? That's called resilience.
In a sea of options, what truly sets the Echo Lift Kit apart is its undying focus on ruggedness without losing an ounce of its smooth casting elegance. If that's your jam, this might just be the one.
---
Best Value
Rod Weight: 5wt
Rod Size: 9 ft
Material: Graphite
Everyone loves a good deal, and when it comes to fly fishing, the Orvis Encounter Outfit shines bright.
If I were to recommend a kit for someone looking for that sweet spot between affordability and performance, this would be it.
Now, some rods are all show and no tell, but this baby right here is as honest as they come.
This combo brings with it the charm of a 4-piece rod, offering a splendid blend of smooth and crisp performance.
I'm not gonna lie, though. The fly reel, being made of plastic, feels somewhat on the cheaper side.
The reel might not have the heavyweight feel of pricier counterparts, but it does its job, and does it well. Moreover, you're getting an overall package that's pretty darn impressive at its price point.
If you're seeking an all-rounder that respects your financial sensibilities, the Orvis Encounter Outfit might just be the best value pick for you. So, why let a little plastic deter you from an otherwise sterling fishing experience?
Dive right in and let the waters tell you the rest.
---
Best Budget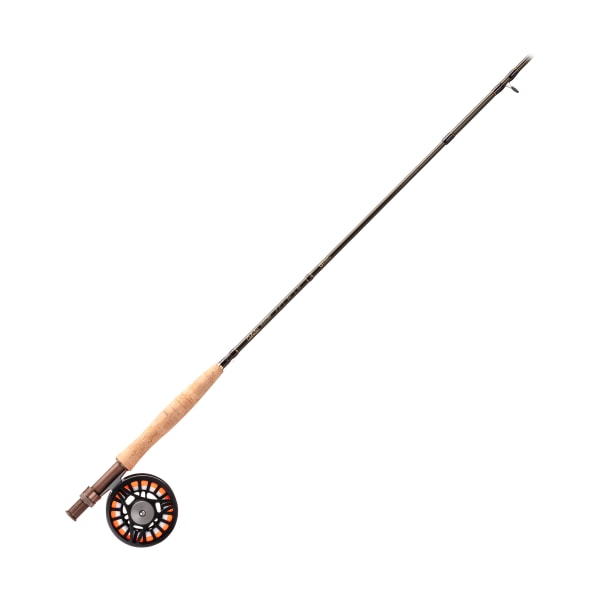 Weight: 4wt
Size: 9 ft
Material: Graphite
Reeling in the next contender, here's another one to consider in the "bang for your buck" realm: Cabela's Bighorn Fly Outfit.
The rod itself is crafted with strong, sensitive 24-ton carbon graphite. Its moderate action is great, and the reel is smooth.
My experiences with this rod were consistently positive, and it showed resilience even during prolonged sessions.
My buddy Ralph, who I got into fly fishing last year, got this exact kit, and it proved to be his best companion for a while.
I've read up online that some people complain about it breaking, but neither of us ever had any issues. Mind you, I also only took it out a handful of times, but I did carry it in a case.
So, why should this be your next fishing partner? It's simple: unbeatable performance at a price tag that doesn't make your wallet cry.
If you're on a tight budget but don't want to compromise on quality, Cabela's Bighorn Fly Outfit is ready to join your adventures.
---
Best Mid-Range Casting
Weight: 6wt
Size: 8.6 ft
Material: Graphite
Now, onto a proper hidden gem: The L.L.Bean Quest Fly Rod Outfit.
This is more than just another rod and reel combo; it's a full package, perfectly tailored for those who love casting at mid-range distances. And for the newbies out there, the included matched fly line and rod case make the entry into the world of fly fishing as smooth as it gets.
Its moderate fast action, veering more towards the "fast" side, becomes apparent when you put it to the test. Heavily weighted double-nymph rigs? No problem. Large hopper patterns? The Quest handles them with ease.
I was genuinely taken aback by its performance, especially at this price point.
A word of caution, though: while the rod and reel deliver in spades, some in the fly fishing community found the fly line a bit wanting. And while the reel's made of composite material, treat it right, so it can last you a good while. Just avoid going full "adventure mode" every weekend.
At its current market price, it's hard to find a combo that offers such value. It punches way above its weight, competing effortlessly with pricier peers.
Whether you're taking on diverse waters or aiming for a varied catch, this outfit will not disappoint. If mid-range casting is your game, the Quest should be your weapon of choice.
---
Best Distance Casting
Rod Weight: 8wt
Rod Size: 9 ft
Material: Carbon Fiber
Setting off with the Maxcatch Premier Fly Fishing Combo. This beauty is a dream for those who've got their eyes on the horizon.
Its carbon fiber build promises both feather-like lightness and uncanny resilience, and it's meticulously designed for flawless performance.
You know, some rods brag about their casting prowess, but the Maxcatch genuinely delivers. Imagine fishing in vast lakes or trying to lure in that distant fish that's playing hard to get. This powerhouse of a rod and its fast action ensure they're never out of your reach.
But no fishing tale is without its fishy bits.
I talked to a couple of anglers in the community who feel the line that comes with the combo could be better. This became apparent once I first took mine out, so allow me a pro tip and consider swapping the kit line out for a better experience.
But besides that… lifetime support for the fly reel, a year-long warranty, and a forever repairing promise for the rod? It's a clear statement: Maxcatch believes in what they're offering.
---
How To Choose A Good Fly Fishing Rod?
Fly rods come in various "weights" (the wt measure you see here) which refer to the thickness and weight of the fly line they are designed to use.
Most combos in this roundup come in multiple rod weights, which require a bit of thinking on your side.
For most anglers, a 9-foot fly rod hits the sweet spot, especially when targeting trout. In particular, a 9-foot, 5-weight fly rod stands out as the most versatile choice, making it an excellent option for gifting or as a first rod for those just starting their fly fishing journey.
However, if your fishing adventures will mainly take you to small creeks, you might consider a 4-weight fly rod or even go for the ultralight 7.5-foot, 3-weight option.
On the flip side, if your goal is to fly fish for bass or explore lakes and large rivers with substantial streamer flies, a 7-weight or 8-weight rod would serve you better.
For those eyeing steelhead or salmon, starting with a versatile 8-weight fly rod and reel combo is a wise move.
When it comes to trout fishing, sticking with a dependable 5-weight rod is a safe choice. You might lean toward a 6-weight if you plan to tackle larger bodies of water. Just ensure it's a 4-piece rod for easy packability.
How To Choose A Good Fly Fishing Reel?
Assembling the right fly fishing setup, especially the reel, can seem daunting. But don't worry, I'm here to help simplify it for you.
Luckily, modern fly reels have evolved to become the current large arbor reel. These are more angler-friendly, featuring what's known as a "large arbor" design. Picture it like wrapping your fishing line around a large soup can rather than a thin pencil — wouldn't that be much easier?
That means you can reel in your line faster and with less effort. Because of that, reeling in something like the TFO NXT Black Label Fly Rod Kit is truly a smooth breeze.
Even if you're on a budget, you'll find that today's entry-level reels come with larger spools and are exceptionally lightweight. If you decide to fly on over to the more expensive side of things, you'll notice a key difference though.
These reels often come with smoother drag systems – something that ensures your line releases smoothly when a fish makes a run.
A good smooth drag system allows you to fine-tune the resistance to match the fight of the fish – like adjusting the tension on a spring – and this is a game-changer when battling a feisty fish!
The good thing is that most entry-level combos today come with reels capable of handling some serious fish. I've battled huge trout with combos on the inexpensive side.
Just remember to keep your drag setting on the gentler side, and if you hook into a sizeable, fast-moving fish, gently apply some pressure to the outer rim of your reel (it's called the palming rim). It won't stop the reel completely but does slow it down a bit, allowing you to manage the fish without risking a snapped tippet.
Remember, the joy of fly fishing is in the challenge and the journey, and all the combos I listed here will make that journey smoother for you.
What is the Best Fly Fishing Line For Beginners?
Choosing the right fly line and backing is crucial for a successful fly fishing experience.
All the combos in this post come with one, but if you want to be prepared and carry a spare, here's what to look for.
The fly line's weight should match the weight listed on your fly rod's base section. Typically, a weight-forward floating fly line is ideal for most trout fishing scenarios.
When it comes to choosing the best fly fishing line for beginners, the Rio Mainstream Trout Freshwater Fly Line is a top pick. It's designed with aggressive front tapers, making it easier for beginners to cast.
On top of that, it's budget-friendly, typically priced under $40, which is great for those who've only just started fly fishing.
For those ready to invest a bit more for performance, the Scientific Anglers Mastery MPX Taper Fly Line is also worth considering. It's known for its smooth casting and durability, and is effective for turning over large or heavily weighted flies.
While it's a bit pricier, often ranging from $75 to $100, its versatility and performance make it a worthwhile investment.
My Verdict
Fly fishing is both an art and a science, and it sits comfortably on that thin line where precision meets passion.
So, whether you've been fishing for years or are just starting out, picking the right rod and reel combo can make a huge difference. It's something very personal.
If you're still unsure which one to go with, I'd suggest starting out with the TFO NXT Black Label Fly Rod Kit. It's both tough and flexible, which means it works well for beginners and experts alike. Plus, the warranty from TFO is a big bonus.
Remember, fishing isn't just about what you catch, but the fun and memories along the way. So, here's to great days out on the water and many catches to come. Whatever you choose, enjoy every moment of it, and don't forget your waders. Happy fishing!