Bonjour, and welcome to our review of the best fly fishing waders!
A nice set of waders is every fly fisherman's dream. Whether you're a seasoned pro or a newbie, finding the right pair of waders is crucial. But with so many options out there, how do you choose? Fear not, for we have taken on the daunting task of finding not one, not two, but ten of the best fly fishing waders.
Here at Fishing Sensei, we have multiple anglers who are major fly fishermen. After endless hours of research and drawing from our combined many years of fishing experience, we shortlisted 34 of the best fishing waders. Then, our fly anglers field-tested each pair in various conditions, eventually ending up with these ten. Whether it was warm climates, cold water, or rough rapids, we put 'em to the test.
If you're looking for the best waders on the market, you can skip the small talk and jump straight to the Orvis Pro Waders. These waders are made out of four-ply upper and five-ply lower Codura material, one of the best fabrics there is. It's breathable and flex-fitted, so there's little to no resistance while wading. On top of that, the Orvis Pro Waders are outfitted with removable foam knee pad inserts. More experienced anglers would know that waders with knee pads are far and few to come by, and only in higher-end waders. These keep your knees protected, especially when climbing across those river boulders. Overall, the Orvis Pro was crafted with some of the best materials available while still being priced reasonably. 
Of course, for such first-rate quality and durability, the price is reasonable, but not exactly cheap. But don't worry, there are waders on our list ranging from $100 up to $1,000. No matter your budget, we've got a pair of waders for you. From breathable waders to waterproof ones, from neoprene to GORE-TEX, we've got it all covered. So sit back, relax, and let's get wading.
How to Choose The Best Fly Fishing Waders
When you're shopping for fly fishing waders, price is a huge deciding factor. Regardless of your fishing experience, you can't buy waders out of your wallet's depth. With a larger budget, you'll naturally look at the more expensive waders. Whereas you may have to give up some features with a smaller budget. But if you're not rolling in dough, no worries, there are still lower-priced waders that are high-quality and get the job done.
Having said that, investing in higher-end products usually pays off. When getting top-of-the-line fly fishing waders, you get better construction, material, and features. For example, GORE-tex is the best waterproofing fabric because it's breathable and durable. It's everyone's go-to choice. However, it's the most expensive wader material there is.
Now, it doesn't make sense to go and spend $1,000 on a pair of waders if you go fly fishing once or maybe twice a year. The amount of time you spend with the rod in the water will be a great starting point for choosing a pair of waders. If you're in the water 150-200 times a year, you'll want an insulated GORE-tex with 4-mm Neoprene booties. But if you're only in the water an hour or two a day, 20 times a year, a simple Nylon Shell with 2-mm booties could be a better fit.
Ultimately, consider your budget and how much time you're going to spend in the water. This will tell you what kind of gear you need.
Best Entry-Level Fishing Waders
In this article, you'll see only chest waders and no hip waders. The reason for this is that hip waders just won't cut it for fly fishing. Chest waders are less restricting and more protective than hip waders. That's why you'll never see hip waders on a fly fisherman, only chest waders.
Also, note that we've broken up the ten best fly fishing waders into three categories for reading ease. This is why you'll see three "Best Overall" tags. Each is for the entry-level, mid-range, and high-end category respectively.
Let's kick things off with the best entry-level waders.
Best Overall
Material: Nylon
Footwear: Neoprene Booty
Color: Boulder/Slate
Starting our list, we've got the Redington Escape Waders. Redington has been around for years and is a well-known company. Their price-to-quality ratio is exemplary and is what sets them apart. These may be simple entry-level waders, but they're still high-quality waders.
These chest waders come ready with a three-layer upper for easy breathability. The lower is thicker, with four layers to protect areas that are subjected to more wear and tear. Redington kept the same mentality going into the stockingfoot construction. The booty is 3-mm neoprene and double taped, so the seams have protection on the inside and outside. Moving down, the gravel guards are made of 100% nylon and include a lace hook to keep those pebbles out.
The onboard storage is another great selling point for these stockingfoot fishing waders. Considering this is where your valuables will be (cell phone, car keys), waterproofing needs to be top-tier. The custom zipper on the outer pocket is 100% dry fit and will keep water out even in chest-deep water. 
If you're getting your feet wet (pun intended) and looking for a versatile pair of waders, look no further. The Redington Escape Waders are as good as it gets. The quality delivered by Redington and the modest price make these waders the best at the entry level.
---
Best For Warm Weather
Material: Nylon
Footwear: Neoprene Booty
Color: Gray
Coming in at number two, the Frogg Togg Canyon IIs are here to make a statement. These are our lightest and most breathable waders for under $200. If you're a summer fisherman fly fishing in 90+°F weather, these breathable stockingfoot chest waders are the waders for you.
Since the Canyon IIs are just an outer shell, there's no thicker warming layer. You're given an outer shell with a four-ply layer construction from top to bottom. This means durability and strength are distributed throughout the entirety of the waders. Insulated waders are thicker and keep in the heat, whereas this shell is light and breathable. All you'll need is a comfortable pair of jeans with these breathable stockingfoot waders and you'll be all geared up for a summer of fly fishing.
Even though these are hot-weather waders, you'll always have the option to "layer up" if you need to tread cold water. All you have to do is throw on some layers underneath, and you've extended your water time. 
Keep in mind these can be all-year-round waders if used properly. If you're searching for lightweight waders to do hot-weather fishing, the Canyon IIs could just be the waders you're looking for.
---
Best Sizing Options
Material: Polyester
Footwear: Neoprene Booty
Color: Tan
At number three, we have the Simms Tributary Stockingfoot Waders. These come from one of the most reputable fishing companies out there. Simms takes the most time to test their equipment and find out where their waders lack. The Tributary Waders are no exception (even if they're on the cheaper end).
Higher-end Simms waders are made of GORE-tex, which makes up a massive part of the price increase. With these cheaper waders, you're receiving the same high-quality construction, just with polyester, not GORE-tex material. Like all Simms, these polyester waders feature a three-layer breathable upper to prevent overheating. Meanwhile, the four-layer lower keeps all your high-abrasion points watertight and durable.
What really catches your eye on these chest waders though, is the selection of available sizes. You're sure to find the perfect fit. From short and thick, to tall and skinny, there are 19 different options. Most other companies have a one-size-fits-all for small, medium, large, and XL. But when dealing with Simms, you won't have to worry about "kinda fitting" into your gear; expect the perfect fit with the Simms Tributary Waders.
---
Best Slim Fit
Material: Polyester
Footwear: Neoprene Booty
Color: Brown
Next, we have the Compass 360 Fly Fishing Waders. These will be a fan favorite for all you anglers with a slimmer build and who prefer a more "snug" fit. Universally made for both males and females, Compass had to choose a direction to head in. A big and baggy fit, or a smaller snug fit to accommodate a woman. At the end of the day, they went for the snugger fit.
I'll warn you ahead of time, large calves may be a strikeout for these waders. That's because the tightest place is the lower leg region. However, it does have its advantages. Unlike baggier designs, there's no risk of bunching up. You'll be out of the way of rocks and sticks which create holes and wear. Plus, the snug fit makes the waders feel more like clothes instead of gear.
These chest waders boast a three-layer upper and a four-layer lower, optimizing breathability and durability. They've also maximized onboard storage with a massive water-tight chest pocket. And if you get cold fingers, don't worry. The kangaroo-style fleece-lined handwarmer pockets are guaranteed to keep your hands toasty. 
With its features, quality, and price point, these affordable waders are hard to pass up if you've got a slimmer body type.
---
Best Mid-Range Fishing Waders
Now, let's move on to the mid-range fishing waders. You'll find better features and materials that improve longevity and performance.
Best Overall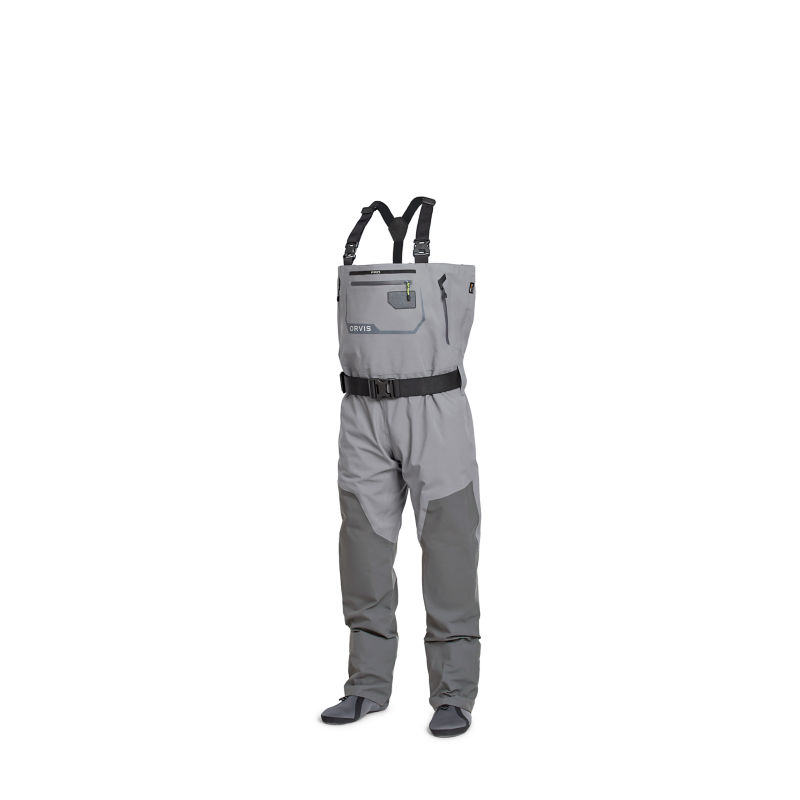 Material: Cordura
Footwear: Neoprene Booty
Color: Shadow
Number 5 is one of my personal favorites, the Orvis Pro Waders. Landing at the best overall for mid-range waders, these are waders to be reckoned with. With features built in that we didn't even know we needed, it shows how much thought and effort was put into these waders.
Starting right on the top, you'll see easily adjustable suspenders. Plus, a D-ring is right in the center of your back, perfect for mounting your fly fishing net. Moving down toward the zippered chest pockets, you'll be pleased to find six large, watertight ones. There'll be plenty of room for your phone, keys, and tackle without worrying about squishing lunch.
These aside, there are also integrated knee pads and a four-ply upper and five-ply lower layer of Cordura construction. The removable knee pads are a game-changer; I'll never have a pair without them again. The new Cordura fabric proved to be resilient and waterproof, lasting me a whole season and still looking brand new. There's also an added layer at the top and bottom layers for extra protection. This makes them one of the thickest-layered pairs available. This thickness in turn translates to extreme durability.
I also like that the slim-fitted booty made me feel like I was wearing a sock. This fitted boot sock is the upgrade we never knew we needed. Forget about loose-fitting boots and feeling like you're walking on the moon. Your feet are now at home, comfortable and ready for hours of wading.
You can't go wrong with this pair of Orvis Pro Waders. Hanging around the mid-range price on our list, these offer you everything you could ever need – and then some more.
---
Best Handwarmer
Material: Nylon
Footwear: Neoprene Booty
Color: Grey
Coming up next, the Redington Sonic-Pro Waders are for those of you who find yourself getting chilly on the water. And take it from me, the quickest way to lose interest in a fishing trip is being cold.
The Sonic-Pros are made by Redington – another popular outdoors company. They excel in durability and longevity; now, you can add warmth to that list.
In earlier models, the construction was still superb but a bit less thick. Now, you've got four-layer construction top to bottom, locking that heat in. Plus, they've increased the booty thickness and made them patented to Redington. There's a 3.5-mm neoprene booty on the top of your foot and a 4-mm neoprene pad on the bottom. The pad on the lower portion gives extra padding on the foot while prioritizing maneuverability.
Making our way to the chest area, the double fleece-lined kangaroo pocket is a great cozy touch. Yup, you guessed it, this pocket locks in that heat, keeping you on the water longer. With the double-lined fleece, you can expect to spend a couple of hours longer in the water. Other waders out there come without fleece in the pockets entirely, or just not thick enough material; with Redington, that's not the case. Their kangaroo pocket will be a blessing to anyone who gets chilly on the water easily.
Additionally, the center zippered chest pocket has improved watertight zippers. The watertight zipper with a GORE-tex flap is a must-have. Primarily responsible for keeping your electronics safe, you'll want quality here, and quality is exactly what you get. On the inside, there's also a flip-out pocket, perfect for storing a fly box to quickly and easily access it. 
If you get cold easily and consider yourself more of a summer angler, then these cold-weather waders are your best bet. These chest waders will get you on the water sooner and help you stay longer in those colder months.
---
Best Value
Material: Nylon
Footwear: Neoprene Booty
Color: Grey
At number seven, we've got the Hellbender PROs. These waders are for those trying to get the most out of every single penny.
The Frogg Toggs Hellbender Waders have a four-ply nylon upper followed by a five-ply nylon lower. This gives you the temperature control needed while keeping your gear durable. You'll also be glad to hear that the shin and knee sections are double reinforced. So, no more worrying about sharp jaded rocks. Instead, trust your gear and let it take the rough life of a wading fisherman.
If you still need convincing, take a gander at the neoprene booties. These booties are double-taped with 4-mm neoprene material. The double-taping feature protects your inner and outer seams, doubling your waders' longevity.
The only reason these waders are under $200 is due to the nylon material used. However, don't let the nylon construction deter you. They still feel like mid-range waders and even function like them too, but only have the durability of an entry-level one. That's why we decided they belonged on the mid-range list.
---
Best High-End Fishing Waders
Lastly, we're heading to the high-end waders. Here you should expect the top-tier products on the market today, with the most time spent on design and testing.
Best Overall
Material: GORE-tex
Footwear: Neoprene Booty
Color: Slate
Landing at number eight, the best waders in existence are the Simms M G4Z Stockingfoot Waders. With a whopping 1300 man hours in testing alone, Simms is truly committed to the consumer. These premium waders are top-tier. They're made of GORE-tex and will outlast most, if not all waders on the market.
Getting into specifics, the self-healing membrane is a breakthrough technology that doubles waders' lifespans. If you're familiar with "fix-a-flat" or used to fix a flat tire, then you know what a self-healing membrane is. If you get a cut or abrasion, the membrane leaks, adheres to the GORE-tex, and patches your waders. This revolutionary technology alone is almost enough to justify its exorbitant price. But there's more to come.
Simms wanted to ensure comfort in all departments, thus the air mesh system on your suspenders. The material allows your back to breathe, where we tend to get a little sweaty (under the suspenders). Airflow is a must, especially in summer, and Simms took that into account for you.
Constructed with GORE-tex and Cordura, there's no better pair of waders. If you've got the extra cash to throw around and are a committed angler putting up days on the water, these chest waders are a must-have.
---
Best Belt
Material: GORE-tex
Footwear: Neoprene Booty
Color: Gun Metal
Number nine, we've got another pair of Simms waders – the G3 Guide. Consider this the little brother of the G4Z. They're constructed with GORE-tex material with a three-ply upper and four-ply lower layer.
Starting from the top, the suspenders are padded in multiple spots. This lets you load up your waders with gear with zero discomfort on your shoulders. These are one of Simms' top-selling waders, and for good reason. The amount of testing hours is astronomical. With a whopping 16,000 hours, everything was put on the table when these were designed. Single-stitched seams on the front to prevent seam stretching and leaks. Then, the GORE-tex four-layer construction in the high-wear areas prevents abrasions. And of course, the removable knee pads keep you safe at all times.
To seal the deal, the gravel guard doesn't even require a lace hook to function. The lace hook is often the first to go after corrosion and wear and tear. The tightly fitting gravel guard wraps around your boot like neoprene while keeping your maneuverability at 100%.
Finally, Simms even took into account anglers' different body types. Wading belt placement is a huge deal when securing your waders in the right spot. Yet, without a custom-built set of waders, how do you market to an array of fishermen? Well, Simms created a double-tier wading belt loop system. This allows you to adjust your wading belt higher or lower, giving improved fit and comfort.
The double-tier wading belt is the best there is. For a comfortable, tight fit, grab the Simms G3.
---
Best Sustainability
Material: H2No
Footwear: Neoprene Booty
Color: Forge Grey
For our final contender, we've got the Patagonia Swiftcurrent Expedition Waders. Patagonia is known worldwide for its outdoor gear and is one of the best on the market today.
The Swiftcurrent Expeditions are made of 100% recycled material from top to bottom. Patagonia is known for its commitment to sustainability. The Swiftcurrent Waders are no different. They're made from recycled face fabric, which is a combination of nylon and polyester. The inner fabric is made from recycled polyester too, so the entire fishing wader is recycled material. This is a big plus for environmentally-conscious anglers.
The Swiftcurrent Waders have a great suspension system. The waders have adjustable, quick-release shoulder straps that allow for easy adjustment. This makes for a better fit and weight distribution.
Besides recycled materials, these waders possess several other noteworthy features. They're made with a four-layer H2No. The weird name aside, these are a performance-rated waterproof and breathable fabric. You'll find wearing them quite comfortable even after long periods of time.
The Swiftcurrent Waders also have plenty of zippered pockets for storage. These include a large chest pocket and a flip-out waterproof pocket for your valuables. There's also have integrated gravel guards to keep debris out of your boots.
The Swiftcurrents are an excellent choice for anglers who want sustainable waders. It's nice that they used recycled materials, and the suspenders make these waders a pleasure to wear on the water. These are the best fly fishing waders for you if you're in the market for a high-end, 100% recycled material pair of waders.
---
The 10 Best Fly Fishing Waders For Women
Women's waders are made to fit the curves of a woman's body. Meaning they have a narrow waist and broader hips. Women's waders may also employ a drop-seat design for easier bathroom breaks. And a more contoured chest area to provide a better fit.
Many women's waders are also designed with fashion in mind. You tend to see more stylish waders with a wider array of colors and patterns that are more appealing to women.
Below, in numerical order, we've listed the top ten best women's waders for fly fishing:
Looking For The Best Booted Fishing Waders?
Booted fly fishing waders are a type of waders that come with built-in boots. This eliminates the need for separate wading boots. This is popular with anglers who want to simplify their gear and make getting in and out of the water easier. The only downside of booted waders is the storage size, so storage can be a bit troublesome.
You'll notice there are quite a few Simms waders on our list. That's because they create quality waders that outlive much of their competition. Like the bootless waders, our best bootfoot waders are the Simms G3 Guide Bootfoot Wader. They're made with single-seamed GORE-tex to prevent stretching and seam busting. 
Sometimes, your feet get cold easily with boot foot waders. But with the G3 Bootfoot Waders, that won't be an issue. Lined with 7-mm neoprene insulation, these boots are ready for any water temperature. On that same note, the boot's outer is a triple-layer vulcanized rubber. The quality and time dedicated to making these waders are second to none. If you're searching for a sturdy, durable pair of bootfoot waders, you could do a lot worse than the Simms G3 Guide Bootfoot.
FAQs
For your convenience, we created a frequently asked questions list. Be sure to read through these before making your final purchase.
How Long Should Waders Last?
The lifespan of fly fishing waders can vary depending on various factors. These could be how often you use them, care for, or maintain them. With proper care and maintenance, you can expect your waders to last anywhere from 2-5 years.
How Do You Repair Fly Fishing Waders?
Repairing your fly fishing waders can be quite simple and affordable. Let's face it, after a season of hard use, a small leak is bound to appear on even the best waders. Follow these simple steps to repair your own waders:
Identify the leak
Clean the area of the repair
Apply the patch kit
Press and hold the patch till it's fully adhered to the fishing wader
Allow time to dry
Test out the repair
Repeat for future repairs
Are Stockingfoot Waders Better Than Bootfoot Waders?
Both stocking foot waders and barefoot waders have their advantages and disadvantages. Which one is better depends on personal preference and the type of fishing.
Stocking foot waders have neoprene booties and require you to wear wading boots. The outer boot can provide better ankle support and stability on slippery surfaces. This makes them a good choice for fast-flowing water. They also tend to be more more sturdy and longer-lasting than barefoot waders.
On the other hand, boot foot waders are generally more comfortable and easier to put on and take off. They're also more breathable and allow for better airflow around the feet. This makes them better for fishing in shallower water or warmer weather.
What Are The Best Waders For The Money?
If you're looking for the best value waders, check out the Frogg Toggs Hellbender PROs. They're built with the quality of mid-range waders but are priced at the entry level. You're getting a pair of well-insulated and durable waders. In addition, it's got double-reinforced knees and shins.
What Are The Best Breathable Waders?
If you're fishing in a warmer climate and temperature control is a significant factor, you'll want the Canyon IIs. These highly breathable waders are essentially a shell with no insulation. You'll stay dry and keep cool, and with these landing around the $100 mark, you can't go wrong. 
Who Makes The Best Fly Fishing Waders?
Although this is up for speculation, from my twenty years of fishing, I've found you can never go wrong with a pair of Simms waders. They produce the best fishing waders because the amount of time they spend on field testing their gear is second to none. They dedicate time, effort, and resources to keep bettering their products. 
My Verdict
After countless hours of in-the-field testing, we've narrowed down the competition.
The overall best from all three categories is the Orvis PRO waders. They're in the mid-range price range with the quality and features of the high-end market. They're comfortable, durable, and quite aesthetically pleasing. If you're having trouble making up your mind, these will deliver on all fronts. 
Now that we're in full swing into the fishing season, don't forget about gear maintenance. If you missed out any fishing gear while shopping or just need some advice on buying fishing gear, you can check out our fishing gear guides.
Make sure to maintain your fly fishing gear regularly so that they run smoothly. Don't forget to clean your gear too after each trip to ensure your gear lasts as long as possible. Happy fishing!